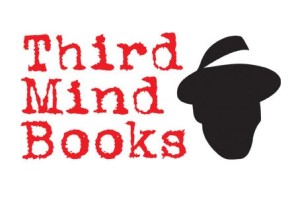 The Fine Print Newsletter
       JANUARY 2017
THE THIRD MIND BOOKS MONTHLY FEATURE this month comes in the form of our BEAT & BEYOND BROADSIDE SALE. In the latter half of the twentieth century, the poetry broadside blossomed—becoming a staple in the printing industry for showcasing single poems and promoting/commemorating events. Broadsides were almost always manufactured in limited print runs and often signed by the authors whose work or presence was exhibited on them. For the Third Mind Books Author Feature this January, we've chosen to keep with the mixed-bag style of last month's Holiday Sale, but shift the focus to some of the most stunning broadsides in our inventory. Likely because of their unique collaborative aura and print run scarcity, broadsides some of our most sought-after items. Among the authors represented are JIM CARROL, GREGORY CORSO, ROBERT CREELEY, RON PADGETT (w/ILLUSTRATIONS BY GEORGE SCHNEEMAN), BILL BERKSON, WILLIAM S. BURROUGHS JR., JOAN VOLLMER, DIANE DI PRIMA, ED SANDERS, ED DORN, MICHAEL McCLURE, ROBERT DUNCAN, CLAYTON ESHLEMAN, LAWRENCE FERLINGHETTI, ALLEN GINSBERG, ANNE WALDMAN (w/ILLUSTRATIONS BY GEORGE SCHNEEMAN), JACK KEROUAC, JOHN MONTGOMERY, JEROME ROTHENBERG, JOEL OPPENHEIMER, ROBERT BLY, JOHN WIENERS, & GARY SNYDER. FOR THE MONTH OF JANUARY ONLY, these items will be 10% off. Link: https://www.thirdmindbooks.com/featured.php
Of particular interest to me, at present, are the Padgett and Sanders broadsides, along with the inclusions by Black Mountain "affiliates" Wieners & Oppenheimer. I've read two unsung books of incredible value as of late—Martin Duberman's exceptional 1972 history of Black Mountain College, Black Mountain College: An Exploration in Community and Ed Sanders' criminally under-read FUG YOU: An Informal History of the Peace Eye Bookstore, the Fuck You Press, the Fugs, and Counterculture in the Lower East Side. I'll start off with Duberman. Very few biographies I have ever read have been as viscerally charged with the heartbeat of human life as Duberman's. The historian's duty, as is commonly proposed, is to provide an objective chronology of events—enhancing as they must the pivotal moments and figures—while removing themselves as effectively as possible to negate any accusations of bias, preference, or overt glorification that may be thrust their way in the review columns. Duberman, echoing Thoreau's comment in Walden (which he uses as one of his two epigrams on the title page) that "…We commonly do not remember that it is, after all, always the first person that is speaking," refutes the expectation generally placed on the biographer. Duberman argues (successfully, in my opinion) that by the confessional recognition of the impact of the research on the biographer, he is able to charge the work with the selfsame electrification that so sparked him to embark upon the project. This is symmetrical with the poetic theories of Allen Ginsberg as expounded in his incredible Paris Review Interview, and, as his epigram relates, is in continuity with the American literary tradition dating back to Emerson and American Transcendentalism.
Duberman, not unlike John Andrew Rice, the founder of Black Mountain College, was a respected professor at a celebrated university, and an educational outsider whose ideas on education did not lie in line with the dictums ordered down to him. As Rice was ousted from Rollins, for similarly irrelevant controversial minutiae (which, again as in the case of Rice, was representative of a larger divide) Duberman resigned from his post at Princeton University and eventually began work on a cohesive history of Black Mountain College—a history till then untold. When most of us think about Black Mountain, we think CHARLES OLSON, ROBERT CREELEY—and those are the big names in lights on the marquis—but what we don't often realize is before Olson & Creeley came along, John Andrew Rice & Josef Albers established an incredibly magnetic Black Mountain who even then attracted the biggest names in the arts AND science. Most of us have heard that Albert Einstein visited Black Mountain, which is also true. But a common myth about Black Mountain is the depth of involvement frequently ascribed to each person on the oft-recounted list of names associated with the college. Most of these names (and Einstein, Willem de Kooning, & William Carlos Williams are examples) may have taught at one of their many storied Summer Institutes or gave a guest lecture, but a discernment needs to be awarded to those who were inextricably connected with the day-to-day activity of the college (teaching and otherwise) AND its legendary Summer Institutes.
Even though John Andrew Rice was not only an exceptional leader (character faults withstanding) and a seemingly superhuman orator, the Rice years gave way to Black Mountain's longstanding presence as an Art School for painters—largely through Rice's recruitment of legendary Bauhaus artist Josef Albers as an early endowment to the faculty. Albers' dominating influence led to his eventual assumption of the role of Rector after yet another ousting of Rice—a position in which he made Black Mountain a school with primary focus on the visual arts. The separating factor of Duberman's book is this: he doesn't just give you a list of famous names and tout their presence when applicable, but instead provides an in-depth portrait of a rapidly-revolving staff of excommunicated educational innovators who saw Black Mountain as a playground to put their own theories to the test. This, in all  cases, helped inspire or infuriate everyone who went there—and the history of BMC is riddled with volcanic eruptions, widespread accusations of dictatorial ulterior motives, and exemplifies in one isolated microcosm everything from radical variances in educational theory to the idea of a true Democracy vs. a Representative Republic—the very argument the United States was founded upon and has been so amplified in the American News Media during the recent election cycle. Duberman, through extensive interviews with all primary, secondary, and tertiary participants—asking many the same questions, interweaving objective resources with firsthand testimony—creates THE standard for a history of Black Mountain College and is a required read for anyone interested in Mid-Century Artistic Development.
As for ED SANDERS, if you've not read Fug You, you are missing out. It baffles me how many people do not understand Sanders' historical importance, and that he hasn't found a university to purchase his archive at the price he's asking for it. First off, what do you think of when you think of Sanders? Do you think of the Yippies and Abbie Hoffman? Do you think of The Fugs, NYC & the Lower East Side in the 1960s? What most people don't know is that Sanders was an early participant in the Civil Rights Movement—so much so, that he PERSONALLY filmed (as an individual participant) the March on Washington and Dr. Martin Luther King Jr.'s I Have A Dream speech. How about that? Too bad that footage was raided and (ostensibly) destroyed by police when they raided the "Secret Location on Avenue A" where he was publishing The Fuck You Press/A Magazine of the Arts, one of the most important magazines of the Mimeograph Revolution. How about Ed's Peace Eye Bookstore, where in 1964 he staged the FIRST rally/demonstration for the legalization of marijuana! 1964! Which, of course, led to more raids, and moreover his completely untold battle for Free Speech almost TEN YEARS AFTER we commonly perceive Ginsberg to have once and for all won that fight. Of course, the educated reader of this Newsletter knows William S. Burroughs at the time was going through similar things with the suppression of Naked Lunch. But we all too commonly think that after Ginsberg, it was won forever—whereas Burroughs, and Ed Sanders, still had to fight for freedom of speech. I could continue ad infinitum, but to wrap it up concisely, both of these titles I've chosen to recommend in this newsletter are absolutely invaluable tomes—and if you haven't yet, I urge you, fellow Beat-&-Beyond Brothers & Sisters, to further edify your cosmopolitan knowledge and get an even greater look at what was happening at the time.
And, while you're at it, check out those Sanders broadsides we've got in our "Featured Items" section, and see if there's any other salivating sales that seduce the collector in you.
Till next time…
Joe Provenzano
Assistant Curator
Third Mind Books