For the month of April, we've decided to celebrate the rich history of the literary magazine (itself a collaboration of sorts) and the multifarious examples of literary collaboration enacted by many totem figures of Mid-Century American Poetic Development. We've gathered together some incredible collaborations from Joe Brainaird, Anne Waldman, Ted Berrigan, Lewis Warsh, Robert Creeley, Allen Ginsberg, Gregory Corso and more. We've paired this with a dually noteworthy selection of esteemed & obscure literary magazines ranging from pioneering epoch-makers like Origin & Beatitude to Mimeo Rev classics like Magazine and Poems from the Floating World. All offered for this month only at 10% off!
A selection of particular interest to me at the moment is Issue 29 of Beatitude magazine. Beatitude was published by John Kelly (historically referenced as "…the only responsible party"), and founded by poet William J. Margolis and poète maudite Bob Kaufman, among the most mythologized of Beat authors. In Kaufman's words, Beatitude "was designed to extol beauty and promote the beatific life among the various mendicants, neo-existentialists, christs, poets, painters, musicians and other inhabitants and observers of North Beach." (Granary Books). Beatitude was initially printed on a mimeo machine at Pierre Delattre's Bread and Wine Mission, making it one of the earliest exemplars of what would come to be known as "The Mimeograph Revolution." (ibid).
Here's a famous shot many of you may have seen of Kaufman, his then-wife Eileen, and William Margolis preparing Beatitude No. 1 at the Bread and Wine Mission: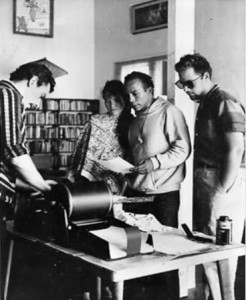 Something that so many Beat-&-Beyond scholars have yet to take a fair look at is the life of Beatitude Magazine AFTER the many episodes in Kaufman's tumultuous life rendered him incapable of continuing the magazine on a regulated basis. In the early-mid 1970s, a network of young writers had grown into young adulthood and a precocious literary maturity. They had watched San Francisco and New York become the worldwide epicenters for the literary avant-garde. They saw the Printed Word be liberated from the fetters of censorship through the concentrated individual and collective efforts of a web of courageous & masterful young activist-scholars sensationalized as "Beatniks," "The Angry Young Men," and "The Know-Nothing Bohemians." The 1960s had ended, and although The Beat Generation was a world-famous phenomenon, the movement as a literary-critical phenomena was not yet palatable for academic research or esteemed in the way it is in many parts of the world today. Allen Ginsberg and his "golden gift Tongue of Thoth" (to quote Ed Sanders) would still have to stump for the movement's legitimacy, and revolutionary biographer-scholars like Ann Charters and John Tytell would still have to give their entire lives to wake the Sleeping Cyclops of the Academy. But, being somewhat the product of the 1960s, these fervent youth were able to "transcend the bullshit" in the immortal words of Tom Wolfe in The Electric Kool-Aid Acid Test, and embraced the achievements of their predecessors wholeheartedly. With admiration came inspiration, and these aspiring youth thought in that great Emersonian tradition that states "…the richest results of thought and action are only new preparation."
Granted, they were fortunate to have fallen in the crosshairs of time & place as it pertained to where many of these mid-century pioneers (even after the 1950s and 1960s) still called home: San Francisco, California. Among these "established" Beat writers living and working in the Bay Area were Michael McClure, Harold Norse, Diane di Prima, Philip Lamantia, Gary Snyder, Richard Brautigan, Charles Bukowski, Gregory Corso, Jack Micheline, Bob Kaufman, & Jack Hirschman, just to name a notable few. These, along with visionary poet-publisher Lawrence Ferlinghetti, did much to create a fertile atmosphere for the literary arts that inspired its devotees as powerfully as it infuriated its detractors. Some, like McClure & particularly Norse, held soirees at their homes in the great tradition of our literary past—engaging, encouraging, and enlightening many of those fortunate and stalwart enough to guarantee their attendance when a gracious elder's door was opened to them. We keep referring to this "group" as "they" and "them." It's time we share their names, bring them out of the shadows of Beat Scholarship, and give their life and work the fair shake it deserves.
Among these individuals sometimes referred to as "The Baby Beat Generation" are Thomas Rain Crowe, Ken Wainio, Neeli Cherkovski, David Moe, Janice Blue, Paul Wear, Luke Breit, Kaye McDonough, Phillip Daughtry, Kristen Wetterhahn, Jerry Estrin, Peter Blue Cloud and Roderick Iverson. "Baby Beat Generation?" you ask? Why "Baby Beat"? The term arose in a drunken spat between Ken Wainio and Richard Brautigan, when the young surrealist poet dared to criticize and question Elder Brautigan's work. Not unlike the famous naming of Led Zeppelin, Brautigan's invective became a name that stuck, and one that held peculiar charm for a few of the aforementioned writers grouped under the title above. A few years ago, our founder Arthur S. Nusbaum acquired the archive of one of the movement's most notable figures, a self-described "workhorse" of the movement, Thomas Rain Crowe. Crowe, along with Neeli Cherkovski, worked alongside Lawrence Ferlinghetti to organize the First Annual San Francisco Poetry Festival, a smashing success which brought thousands to thunderous applause every night it ran. Not only did Crowe and his contemporaries organize a seemingly endless string of successful readings and do just as much as their predecessors in the late 1950s and 1960s did for the poetry-reading and poetry-writing community, THEY reinvigorated Kaufman's dormant Beatitude Magazine and restored it to all its former glory—featuring as content the new voices of The Baby Beat Generation and their similarly-inclined poet-artist friends.
Many of these authors WERE indeed celebrated by the heroes they so much admired: Philip Lamantia wrote the introduction to Wainio's underground classic Crossroads of the Other. Gary Snyder did the same for Peter Blue Cloud in a few of his most notable publications. Harold Norse was a key mentor of Neeli Cherkovski, as was Charles Bukowski, who went on record one time or another to express the profundity and excellence they found in Cherkovski's work. Thomas Rain Crowe was likewise praised by many, including Gary Snyder, whose appearance in TRC's archive (in original letters, signed books, etc.) infers not just a friendship, but a sufficiently enumerated sense of mutual respect.
You may be asking yourself, "If the events they put on were so successful, and many original Beats found their work to be worthwhile, why haven't we heard about them already?" It's because the stonewalling of academia and our collective negligence as Beat Scholars has caused us to call someone like Cherkovski a "Biographer/Friend" in the acclaimed "Born Into This" documentary of Bukowski—just one example of many where the true worth of the work of these individuals was undercut or underestimated.
Our Founder Arthur S. Nusbaum and I have taken it upon ourselves to join as pioneering scholars of this oft-forgotten yet incredibly important stage in Beat Literary History. For the Third Mind Books presentation at the 2017 European Beat Studies Network in Paris, France, ASN will be delivering a presentation entitled: "The Thomas Rain Crowe Collection: Beat Mentors & Their Progeny" which will delve full-scale into the lives, work, and surrounding atmosphere of literary life in San Francisco during the 1970s.
So for the curious, check out Beatitude 26, featured in our April Monthly Special, and dig on the fact that over 70 years after the initial meeting of Jack Kerouac, Allen Ginsberg, and William S. Burroughs in New York, we are STILL learning more about the Beat Generation and its still-sounding aftershocks.
Joe Provenzano
Assistant Curator
Third Mind Books